We had some good rainfalls two weeks ago, but the recent cyclones didn't affect us at all- we had sunny and very hot conditions again.
Sitting on our back veranda yesterday afternoon, I noticed a big lump high up in a tree, about 20 metres away. My binoculars revealed this Green Ringtail Possum (Pseudochirulus archeri):
Green Ringtail Possums spend the day curled up on a tree instead of in a tree-hollow, their greenish fur provides good camouflage.
This one was sitting on a very exposed branch, probably to catch the cooling breeze.
She repeatedly licked the bare underside of her tail and her hands/wrists, which might also help with cooling. It really was a very hot afternoon.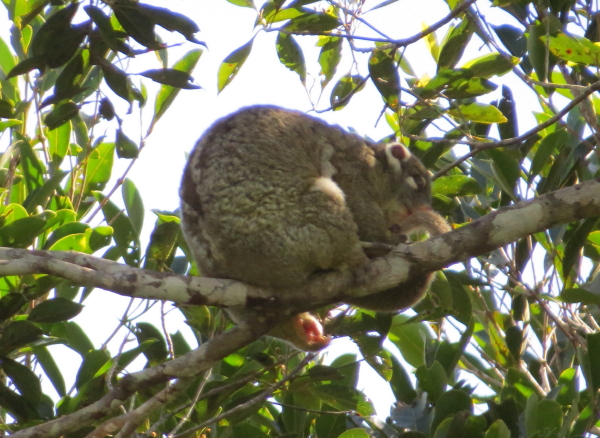 How do I know it was a female? For a brief period she turned and showed me her belly:
She has an admirable sense of balance: most of the time she only gripped her seat with the right foot, letting the left one dangle and using both hands to manipulate the tail.
I spent more than two hours watching this beautiful possum -it is so much easier from my deckchair during the day than trying to find and watch possums while spotlighting at night! She finally left when a thunderstorm approached.
Excuse the shaky last seconds, I was trying to get a photo before she disappeared.